WHY Bond Connection...
Because a RELIABLE and INFORMATIVE source for Bid, Performance & Payment bonds is CRITICAL to construction contractors engaged in public work.
We fully understand, SERVICE IS EVERYTHING! 
Most surety companies only consider a contractor's reoccurring bond needs from a specialized and professional surety bond only broker/agent/producer like THE BOND CONNECTION. In the construction industry, only professionals like us can guide general contractors and subcontractors through the process, establish a partnered business relationship with an appropriate and receptive surety bond company and then foster the relationship by actively managing that individualized surety program. Just as important as your CPA or attorney, THE BOND CONNECTION acts as a key construction operations consultant with it's technical expertise and sound financial advice.
Even in the commercial and private sectors, more & more owners and lenders are also requiring bonds for their projects as society becomes more sophisticated and conservative. It is no longer uncommon for lower tiered subcontractors and even suppliers to be requested to provide bonds on their contractual exposures due to the preferences of general contractors & their bond companies to pass exposure to responsible parties.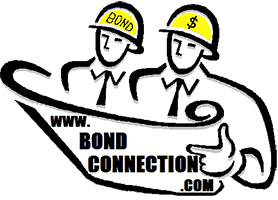 At the Bond Connection, YOU are the BOSS...
We represent YOUR best interests. We negotiate for you so contractors are able to receive bid bonds free of charge. THAT IS CORRECT, THERE IS NO COST OR FEES FOR BID BONDS. As specialists in the industry, its our function to know the current surety rate market better than anyone. Once we help you obtain new projects, the cost of receiving performance and payment bonds to secure those new projects will vary from job to job, contractor to contractor and bond company to bond company. For a preliminary quote, please click on "Apply Now". 
If you already have a relationship with a bond company, receive poor service and would like THE BOND CONNECTION to represent your bonding needs, print and copy this page onto your letterhead. Then sign, date and email or fax it to us. If we can't fix improve things for you, we'll help you find a new bond company better suited to your needs and aspirations. 
WHAT WE DO...
Connect direct with the source instead of dealing with insurance agents or brokers and gain access to these benefits:
Our Qualifications
Underwriting and representing the construction industry's contract bonding needs since 1985.
Extensive familiarity and participation in the contract surety bond industry and credit process and extending functions. Participation in the management process, including estimating, bidding, building and cost control systems. Knowledge of construction contracts and contract law. Awareness of local, regional and national construction markets and trends. Familiarity with accounting and finance, with particular emphasis on the American Institute of Certified Public Accountants (AICPA) Audit Guide for Construction Accounting. An ability to analyze financial statements, work-on-hand schedules and cash flow. Experience in strategic planning and management practices that promote successful contracting. Well respected and access to basically all United States domiciled surety bond companies.
APPLY Now...
Get a bond for your project. Select what meets your needs
 Make your Connection Today!  Call us at 800.298.4826
-or-